Tweet
Here's a stunning example of 'music meets technology' to achieve a sublime artistic result.
Composer Eric Whitacre had people submit videos of themselves singing the individual parts of his hauntingly beautiful choral composition Lux Aurumque (Light of Gold).
185 voices. 243 tracks. 12 countries. A choir unlike any other. What started as a simple social media experiment, has become a poetic metaphor of our shared humanity and the power of connection.
Acclaimed composer and conductor Eric Whitacre offered the sheet music of his original composition, "Lux Aurumque", as a free download and invited singers to submit a video of themselves performing one part (soprano, alto, tenor, or bass).
These rather ordinary videos of solo performances were then pieced together to form a choir of singers who have never met each other...but have unwittingly created music in perfect harmony together.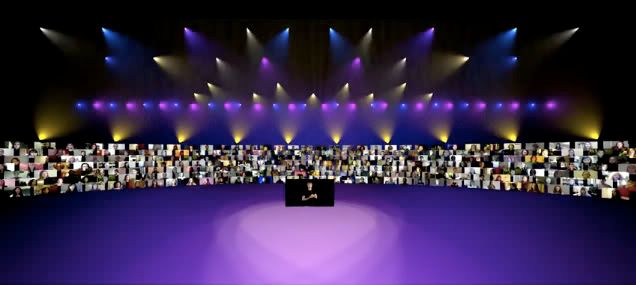 Eric Whitacre is an American composer of choral, wind and electronic music.
He is widely considered one of the greatest choral composers of his generation.
He has served as a guest conductor for ensembles throughout Europe, Asia, Australia and the Americas.
He is inspired by pop and electronic music and is known for his work with virtual choirs—creating choral community via the internet.
He awarded scholarships to the top people in every section, and they will perform with him in New York at a live concert.
The singers come from twelve countries: Austria, Argentina, Canada, Germany, Ireland, New Zealand, The Philippines, Singapore, Spain, Sweden, the United Kingdom and the United States of America. The music is simply ravishing.
It is emblematic of the dynamic at work across social media and its trans-formative potential. Here we see people otherwise unknown to each other raising their voices in harmony directed towards a common goal.
At the risk of sounding lofty, the results we can achieve through coordinated community efforts, on a local and global scale, can be just as beautiful.
Recent Updates: